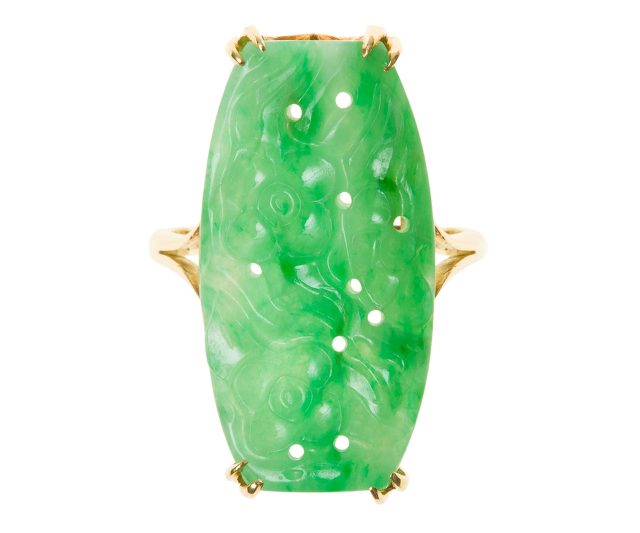 Carved Jade Plaque Ring
circa 1960s
REF: PR_176
The jade colour is very good on this smart plaque ring which is nice and flat, easy to wear and will not catch on anything. The setting measures 27mm x 13.40 mm and is set in 18 carat yellow gold. Weight 7.02 grams. The ring size is M (US 6 1/2) but we have a superb jeweller who can resize without a trace.
Want to try it on? Arrange a Viewing
Want to save for later? Print out this item
Sold
WHAT OUR CUSTOMERS SAY
"Huw and I just wanted to thank you so much for the gorgeous diamond engagement ring that we bought from you at Shepton Mallet the other weekend. It arrived promptly on Saturday morning and I couldn't be more thrilled with it. It was a pleasure to meet you both and such good luck that Jan kindly pointed us in your direction. Thank you for taking your time to run through ring options with us and for your patience while I tried to make a decision! You made the whole experience a real pleasure and I wouldn't hesitate recommending your services to anyone looking for gorgeous vintage jewellery from two genuine and kind people. I know that I'll enjoy wearing this ring for the rest of my life! "
Helen and Huw